"Thank-you Brian!"  We are the somewhat experienced but less than overly confident paddlers of the retirement age. We have gone on several trips but we are always seeking out information to ensure our safety. We called you re our stopover in Maple Bay. We requested if you could overnight our Passat G3 and also give us some info about the return trip to Piers Island through the Narrows.
We would like to say a tremendous thank you! Not only did you look after our wonderful boat but you gave us a very accurate estimate of tide flow through an area we were unfamiliar with. We hit some interesting winds but once into the narrows they only aided our trip. We steamed through without incident although the waters looked "worried" at times. We are most thankful for your expert advice and highly recommend you to anyone wanting more paddle experience and assistance with planning. We were more than happy to contribute the small amount of money you requested to take care of our beloved boat. You are a wonderful resource and a great fellow paddler – thanks so much from another pair of paddlers – Wendy and Bob
_______________________________________________________________________________________________________________
"Nancy & her crew did an amazing job during our tour of the Broken Group Islands. As a novice sea-kayaker, Nancy made me feel comfortable and confident on the water and I thoroughly enjoyed every moment of my trip…fantastic!!"
L. Morton
---

"We are a group of 10 from Calgary who has used Wilderness Kayaking to plan our annual kayaking adventures for over 8 years now. Each year Wilderness Kayaking helps us plan a paddling journey complete with accommodation, wonderful meals and lots of laughter, not to mention great days out on the water.
We have paddled the Southern Gulf islands all the way up to the Broughton Archipelago Marine Park. Our favorite guide, Nancy and her sidekick, Gary manage all of the details and take great care regarding our individual paddling abilities and personal safety. They check the weather conditions and know when the tide will be ebbing or flowing while we enjoy beautiful scenery and local sights. We highly recommend Wilderness Kayaking for west coast paddling!"
Louise G, Heather K, Elaine K, Shannon S, Heather A, Fran R, Eleanor P, Hilda G, Laura M, Lynda S
---
"When I want my students to experience unique, fun filled outdoor activities, I contact Wilderness Kayaking Co. As a culminating year end event, their Adventure staff help me organize a day that includes Canoeing, Team Building, Orienteering and Games. They know how to organize kids, they interact with positive encouragement and they empower every student with a sense of accomplishment.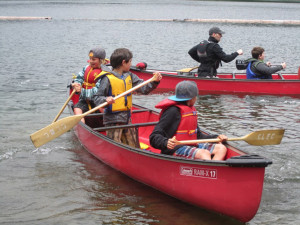 Thanks to Wilderness Kayaking and their team, positive self-esteem rules the day for everyone. The student highlight is always the canoeing session, where even nervous beginners show off immediate paddling skills. I've worked with Wilderness Kayaking and their staff for the past 5 years and highly recommend them for student centered, outdoor fun."
Suzanne Thur , Grade 5 Teacher, Cowichan Valley School District