PIRATES COVE MARINE PARK – DeCourcy Island
This 3-day adventure has a base camp at Pirates Cove on DeCourcy Island, the location of the infamous Brother 12 cult in the early 1900's.
From the base camp, we will take day trips exploring the pristine coastline of Ruxton and Tree Island.
It is quite common to paddle up and see otters playing at the water edge and sliding into the water, you will witness the beauty of the sandstone cliffs carved by time. Our evenings will include a leisurely sunset paddle or a stroll around the tranquil island trails.
COST: $689 +GST
DATE(s): (3days) dates available for your custom group tour
GULF ISLAND EXPLORER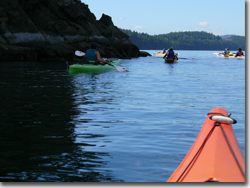 Looking for an adventure that takes you to a new location every day? Then this tour is for you!
We will start from Cedar by the Sea and paddle along sandstone cliffs to Pirates Cove for our first night, the next day we will travel along Valdez Island we will paddle past marine and bird sanctuaries to Tent Island. Here if the tide is right you will be able to cross the tombolo. On our last day, we will paddle through the spectacular North-end of Sansum Narrows and we will have a lunch stop on Saltspring Island by the historical site on Mt. Maxwell.
Truly, an adventure packed with new visions every day.
COST: $689 +GST
DATE(s): (3days) dates available for your custom group tour
BROKEN GROUP ISLANDS MARINE PARK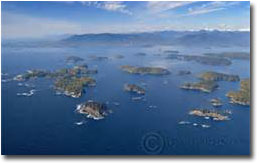 The Broken Islands have it all; spectacular West Coast scenery, an abundance of wildlife, gorgeous sunsets and the wild peace of the Pacific Ocean. The tour can challenge and relax at the same time.
Wildlife such as eagles, whales, sea lions, seals, and salmon are commonly seen. The islands lie in the heart of the temperate rainforest ecosystem of the B.C. coast, and offer an opportunity to explore relatively untouched old growth ecosystems.
The tour includes ferry fares on the Lady Rose, camping fees on the Broken Islands, meals while camping, single / double kayaks with Coast Guard approved safety gear and qualified kayaking guides.
COST: $1799 +GST
DATE(s): (5 days) dates available for your custom group tour